Facility Tour
BodyTech Auto Body Collision Repair Shop Tour, Ventura, CA
43,000 sq ft Auto Body Shop Facility Site Dedicated to Collision Repair
Bodytech is located in Ventura Ca. The modern 43,000 square feet facility is dedicated to auto body collision repair and offers all indoor operations.  The lobby and estimating office are conveniently located in front of the building, offering ample reserved guest parking. Additional 50+ vehicle parking is available in rear of the facility. Bodytech serves the surrounding area of Ventura, Oxnard, Camarillo, Port Hueneme, Ojai, Oak View, Santa Paula and Fillmore.
Related Topics:
The Reception Lobby

The reception area and estimating offices appear modern and inviting. Customers that visit for the first time, often say:
"I can't believe this is a body shop. It looks more like a doctor's office".
The Waiting Customer Lobby

Our waiting customer lobby is designed for comfort and offers a complimentary snack & Cappuccino bar. Parents can entertain their children in the play area or view ongoing repairs from the observation window.
"Comfort with complimentary Cappuccino bar"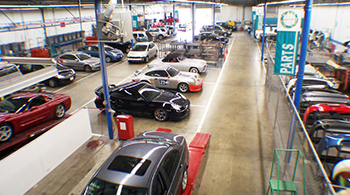 15,000 sq ft Production Floor / Work Area
An observation window offers a view of ongoing repairs in the work area. Witness a culture of being clean and meticulously organized, which we believe is essential prelude to consistently provide the highest level of repair quality. The production floor space covers 15,000 square feet with 19 individual work stalls.
"Being clean and meticulously organized is essential prelude to quality".
Related Topic: